Game Downloads
You're located in category:
Entrepreneur
Review 1:

This sleeper hit of 1997 is an excellent business simulation that, similar to Capitalism Plus, encompasses every aspect of business, from choosing what products to sell, to marketing it across countries. However, the game differs from Capitalism Plusin its focus on tactical (i.e. micro-level) decisions, such as adjusting attributes of a product and R&D spending. The random "cards" you are given each turn that give you additional advantages (e.g. backstabbing) also enhance the excellent replay value. Highly recommended! And if you enjoy the game, also check out its superior sequel, The Corporate Machine, reviewed on this site.

Review 2:

One of the best business simulations I know. You can choose between a few various products to sell. You start in an area like Normandy in France or something with $5,000,000.-. Your goal is to become the industry giant of the world or europe or anything. You can choose between lots of maps and worlds. Every area has its properties.

You can upgrade your products, for example, if you choose to produce and sell computers, you can upgrade the monitor, the Hard Disk Drive and more. You can upgrade on size, price and much more!

It's a realistic and very detailed game, with very good aspects. Extra things, like opportunities to get money from the government or sabotage other companies give a very realistic feeling. I was impressed by this game. I love to play business simulations and this one is really one of the best I've ever played. I'd really recommend this one to business simulation fans! Check it out!
Download full game now: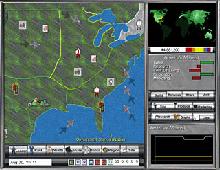 Entrepreneur screenshot
People who downloaded this game have also downloaded:
Transport Tycoon Deluxe, Business Simulator, Free Enterpri$e (a.k.a. Free Enterprise), Machiavelli The Prince (a.k.a. Merchant Prince), Imperialism