Game Downloads
You're located in category:
Dr. Thorp's Mini Blackjack
Dr. Thorp's Mini Blackjack is another solid entry in Villa Crespo's long line of casino games. One of the most accurate blackjack games ever released, DTMBM lets play blackjack with authentic casino rules. You can also alter the house rules, and learn the basics of blackjack strategy and card counting with a very helpful hint feature.

In addition to the basic blackjack game, DTMBM includes a few neat features designed to help beginners understand how the pros play this game. For example, you can hit [F10] key at any time to hear advice from the computer tutor. The computer will indicate the statistically best course of action, telling you whether you should stand, hit, double, split, or surrender. This tutor bases its advice on statistically-derived tables created by Dr. Edward Thorp in the early 1960s (hence the game's name) that have been compiled and revised over years by mathematicians and professional blackjack players. If you'd like to study these tables, you can access them in the game. Playing with the computer tutor will help you learn the strategy that pros actually use in real casinos.

There is also a number of other nice options that make the game much more of a "realistic casino blackjack simulation" than a simple blackjack game. An example is the "insurance" option. If the dealer's up card is an Ace, the dealer will ask each player if insurance is desired against the possibility of a dealer blackjack. "Taking insurance" means putting up a side bet, equal to 1/2 of your original bet, that the dealer has blackjack. So if the dealer does indeed have blackjack and you do not, you win back the insurance bet at 2 to 1, but lose your original bet.

Overall, Dr. Thorp's Mini Blackjack is a fun blackjack game that comes very close to replicating the actual casino experience. The graphics are not superlative, but more than adequate for the purpose. Whether you are a die-hard gambler or a casual blackjack player who wants to learn more about how the pros play, this game fits the bill. Highly recommended!
Download full game now: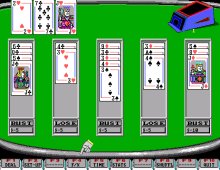 Dr. Thorp's Mini Blackjack screenshot
People who downloaded this game have also downloaded:
Maven, Bunni-Flip, Battle Bugs, Hexodus Chess, Fragile Allegiance (a.k.a. K240)