Game Downloads
You're located in category:
Covert Action
Have you ever wanted to work for the CIA? Infiltrate the KGB? Black-mailpeople into becoming double agents? If you answered yes to any of the preceding then Covert Action is a game for you.

Combining strategic thinking with action, Covert Action puts you in the role of Max/Maxine Remington, expert agent for the CIA. National security is threatened by terrorists and it's your job to stop them. Covert Action weaves an engrossing plot each time you play, randomly generating terrorist "wires" and Interpol reports.

To accomplish your task you will have to place wiretaps, decode messages, break into strongholds and interrogate prisoners.

Following is a list of some of the game's features:

Random plot. Each game is original, adding to replay value.

Random game play. Every wiretap, every floor layout is random

Perform numerous espionage activities, from wiretapping to turning double agents.

Travel between over a dozen cities in your quest for justice.

Encounter over a dozen criminal organizations

Varying difficulty levels -- from local crisis to global disturbance

Limited time -- Everything you do takes time, so you must choose your moves wisely

Agent score -- once crisis is averted (or not) you are rated on your performance

This is not to say that Covert Action is perfect. The plot, while random, can become tedious after numerous games and I often find myself not paying much attention to the details. Also, while there may be varying difficulties, don't expect to pass this game the first timethrough, make no mistake, it is a difficult game. That said, difficult or not, Covert Action is a game that will have you coming back for more.

The world holds its breath. Do you have what it takes to save it? There is a 3-4 minutes wait the first time you break into any building in the game-- just *wait* and the game should continue properly.
Download full game now: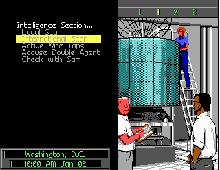 Covert Action screenshot
People who downloaded this game have also downloaded:
Syndicate Wars, Machiavelli The Prince (a.k.a. Merchant Prince), To Serve and To Protect