Game Downloads
You're located in category:
Killerball
Decent action sports game - futuristic and brutal, comparable with Speedball 2, although miles away from its quality and fun. Instead of a square playing field, Killerball plays in a round arena. It is a rather violent game, as the only way to get the ball is to knock the player holding it to the ground. You can play either a computer or a friend and take part in any of three leagues. The graphics and animation are marvellous, as is the tune, but playing against the computer is very frustrating indeed as it's very difficult to score goals, and of course the computer gets it right every time. The game also crashes whenever one of your opponents grabs you and throws you into the air, which is also very irritating.

If you like futuristic football games, check this one out. Don't expect it to rival Bitmap Brothers' classic in playability and fun though. The lack of long-term career play is also crippling, but the focus on action over tactical planning may make the game appeal to arcade fans. In short, Killerball might be considered an original game if there were no other futuristic sports games on the market. But with Bitmap Brothers' Speedball and Rainbow Arts' M.U.D.S. setting high standards, Killerball just can't compete. Fun for an hour or two, nothing more.
Download full game now: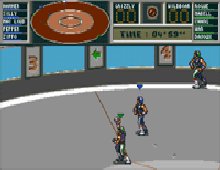 Killerball screenshot
People who downloaded this game have also downloaded:
Lamborghini: American Challenge (a.k.a. Crazy Cars 3), Brutal Sports Football