Game Downloads
You're located in category:
Princess Maker 2
One of the most unique and compelling games ever made, Princess Maker 2 is an excellent "life simulation" from Gainax, and the only game in the Princess Maker series to have been translated into English. As to what the game is exactly, MobyGames says it better than I could: "Raise a daughter from childhood into adulthood. Your actions determine whether she will live or die, and what she will become. You can have her enter school, seek adventure in the wilderness, get a part-time job, break into high society, or any of many other possibilities. 74 Unique endings. A very different kind of game."

What makes Princess Maker 2 a lot of fun is the sheer amount of options and actions you can do, which result in seemingly unlimited range of personalities your (adopted) daughter grows up to be. Although you are limited to raising her from age 10 to 18, everything you do will influence how the child will grow up. You first choose your daughter's name, your age, both birthdates, and her blood type. Then you will decide on a detailed routine of her daily life, from schooling and hobbies, to how you want her to react to different people she will meet throughout the game. There are many surprises and random events to ensure that no two games are alike. With many factors that affect your daughter's character, the game's replayability is astounding, and the 70+ endings will keep you hooked for months on end. Two thumbs up, way up!

Note: This is the English translation that was never officially released. Therefore, there are *gaps* in translation, and missing text in some endings.
Download full game now: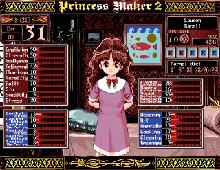 Princess Maker 2 screenshot
People who downloaded this game have also downloaded:
Life and Death 2: The Brain, Girlfriend Construction Set, Executive Suite