Game Downloads
You're located in category:
Millionaire Release 2


Review 1:

Last game in Jim Zuber/Blue Chip's superb line of business simulations, Millionaire Release 2 is the second and far superior release of Millionaire, a great stock market simulation. Although at first glance the game seems very limited given that you can only trade in 15 stocks (all "blue chip" stocks to boot, e.g. Boeing, GM, HP and so on), Millionaire Release 2 is actually a very well-designed and versatile simulation that offers a good range of realistic options. For example, the game gives you 5 difficulty levels to choose from: at "Novice" level, you can buy stocks but not on margin; "Investor" lets you buy stocks on margin; "Speculator" lets you use margin as well as call options; "Professional" adds put options into the mix; and finally "Broker" allows you to do everything a savvy investor can do: buy stocks on margin, use call and put options, and sell short. The game even allows you to change some macroeconomic variables (that you can't control in real life), including tax rate, commission rate, and interest rate on loans. The game is turn-based, with each turn representing one week. During a turn you can buy and sell stocks, read the news, read stock descriptions, look up time-series graphs of individual stocks, industry, overall stock market, and your personal net worth, and look up stock option prices.

Although the number of stocks could be higher, Millionaire Release 2 is nevertheless a fun and reasonably realistic stock market simulation that includes realistic factors that not many other simulations do, such as short selling and stock options. Overall, a well-rounded simulation that fans of the genre should enjoy. Highly recommended!

Review 2:

Well, this is a real stock market simulation. And a good one, it's very realistic and it could be one of the more addicting stock market games. Although it seems very simple and uninteresting, well, that's not true at all. The number of stocks aren't very high, there are about 20 stocks you can trade in.
Download full game now: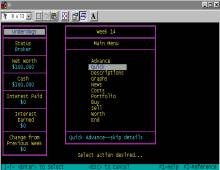 Millionaire Release 2 screenshot
People who downloaded this game have also downloaded:
Business Simulator, Baron: The Real Estate Simulation, Inside Trader, Stock Market: The Game, Stocks & Bonds