Game Downloads
You're located in category:
Defender of Boston
One of the most obscure shareware games ever made, Defender of Boston is a fun and surprisingly complex real-life RPG. Instead of casting you as medieval/fantasy AD&D hero, the game casts you as a private investigator trying to make a living in 1921 Boston. In the latest assignment, you must go to a strange little island known as Rock Island to solve a mysterious disappearance of one Fred Black. The goal is simple: solve the mystery, and return to Boston alive.

Similar to most other good RPGs, part of the fun in Defender of Boston lies in discovering new skills and things you can do as you play. The character creation system, while not elaborate, signals the good level of complexity in the game. When creating your character, you are given a pool of points to use for a number of traits, ranging from the typical (e.g. strength, first aid) to the esoteric (listen, ninjutsu, psychology). Every skill has an impact in the game, and similar to Wasteland and Dragon Wars, using appropriate skills at the right time (and at the right level of expertise) is key to winning the game.

You play the game from a first-person perspective similar to most adventure games, except when you are outdoors when the game shifts to a top-down view that shows your immediate surroundings and any living beings in sight (similar to a radar). Gameplay is a great blend of RPG and adventure: you need to advance your skills, and at the same time solve inventory-related puzzles. The game is a bit disorienting, but after you familiarize yourself with the commands, it is a lot of fun. Although the graphics are sub-par, the game's complexity, fun gameplay, and outstanding attention to detail (the letter describing your assignment, for example, is 5 pages long) makes Defender of Boston one of the best shareware gems you will ever find. Although released as shareware, the game is actually free in that the only thing you will get when registering (which you can no longer do) is a map of the gameworld. Overall, Defender of Boston blends RPG and adventure elements into a fun game that may be the world's only true modern detective RPG ever made. Here's hoping that a new generation of designers will pick up this concept and make more games based on this premise.
Download full game now: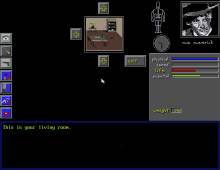 Defender of Boston screenshot
People who downloaded this game have also downloaded:
Halls of The Dead: Faery Tale Adventure II, Betrayal At Krondor, Buck Rogers: Countdown to Doomsday, Albion, Dragon Wars