Game Downloads
You're located in category:
Tower of Goo Unlimited
Tower of Goo Unlimited is a very addictive 'coffee break' game that is based on a simple premise: drag goo balls to form "joints" of a structure, making it as high as possible. Like other games on the Experimental Gameplay website, Tower of Goo Unlimited boasts authentic physics: gravity constantly threatens to pull down your structure, and since the goo balls travel along the beams you create (by stretching a sticky goo ball to form a bridge between two previous joints), the stability of your spring/mass structure is very important. The game is reminiscent of Bridge Builder and Pontifex, two superb physics-based games reviewed on this site. Think of it as Pontifex-lite, and you will have a lot of fun with this cool coffee-break game. The "unlimited" in the name refers to the infinite space you have to play with - the original version of this game had spatial constraints.
Download full game now: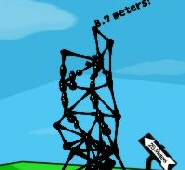 Tower of Goo Unlimited screenshot
People who downloaded this game have also downloaded:
Lemmings, Lemmings 2: The Tribes, Bridge Builder, System Shock 2, Simple Sudoku