Game Downloads
You're located in category:
Swap
Review 1:

Swap is a nice puzzle/logic game by Microids. This one is one from the more tougher category. You'll have to clear a board made-up of coloured tiles (squares, triangles or hexagons) by swapping them and matching them up with tiles of the same color. In Swap you progress in levels. How well you complete one level determines which level you will play next. The difficulty is mainly set by the shape of the tiles, time-limit and the number of different colors. Overall, a quite unique game, and a good change from Infogrames' 7 Color and typical tile-matching games. Be warned of the *very* high difficulty level, though-- recommended for puzzle experts who are not afraid of going blind from staring at hundreds of tiles on the computer screen ;) Recommended!

Review 2:

A small funny puzzle game in which you have to swap colored blocks. When blocks of the same color are connected they will be removed from the field.
Download full game now: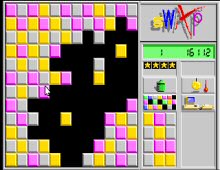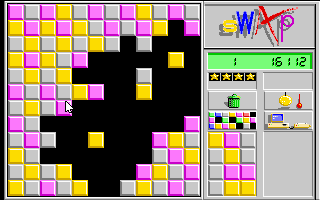 Swap screenshots
People who downloaded this game have also downloaded:
Xixit, Welltris, Triazzle, Tamarin, Word Crazy