Game Downloads
You're located in category:
Locomotion
Review 1:

Yet another game I remember from my Amiga. A simple concept - you have to lead the little trains to their destination by setting the switches. But this soon gets hectic once there are more than one train - and the tracks get more complicated later on as well - don't let the trains crash! It's a great innovative Puzzle-Game this one - sure to have fun with it!

You will want to use a slowdown app if you're playing this on a newer system. This might not apply to Pentium I or II users yet - I think I even remember this one to run fine on my P-III - but on an Athlon 1400 it's definitely too fast.

Review 2:

Locomotion is a decent action/puzzle game with nice VGA graphics and adlib music. The game principle is not new and widely known but well executed. Navigate trains to their destination stations by switching the lines. Things get harder each level, when the railroad layouts get more complicated and more and more trains are coming out faster and faster. If two trains crash, they are lost. The game contains an editor for creating own levels, so replay value is high. Overall, a good variant of LucasFilms' earlier Pipe Dreams, and well worth a look by puzzle fans.
Download full game now: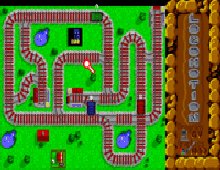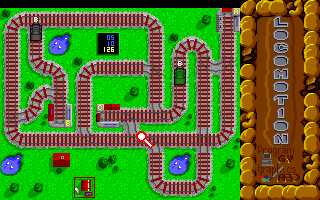 Locomotion screenshots
People who downloaded this game have also downloaded:
Lemmings for Windows 95, Lemmings, Incredible Machine 3.0, The, Lemmings 2: The Tribes, Lemmings Holiday