Game Downloads
You're located in category:
Live Wire!
Live Wire! is an interesting and somewhat innovative 3D puzzle game that unfortunately is much better as a concept than the actual gameplay. In this action-based game that is similar to an early game called Painter, you drive a Tron-style light cycle across a 3D gridded landscape, leaving a coloured trail behind you. Once you "close" any landcsape tile (i.e. color it on all sides), the tile becomes yours and nets you points. But to make things more interesting, you must compete with other opponents who are doing the same thing. The game includes over 50 levels, each with its own landscapes and tiles with different properties. In addition, there are dozens of power-ups that you can use to change the board's layout. Some power-ups steal territory, some change it back to neutral, while others are weapons. The game's levels are well-designed, good looking in a cartoony way, and are full of interesting diversions and themes. You will come across a neat sphere level, a theme park level, and many more. While Live Wire! is a puzzle game, it also requires good reflexes: to shoot your competitors, and avoid obstacles and enemy fire. If you die, you have to start grabbing tiles again.

So Live Wire! has nice graphics, fun gameplay, and interesting levels. What is, then, the problem? The main problem is that the game plays less like a puzzle game than a frenetic action game where you can just blindly race around the board most of the time to collect tiles and win the level. The game moves very quickly: mostly because there are lots of power-ups that keep being used - either by you or by your opponents - which means the landscape constantly changes to the point of inducing headaches. Worse still, there is no way to change the automatic camera movements, so at times you will be seeing the action from a completely useless behind-some-tree perspective. The sheer randomness of what kind and where the power-ups appear make the game more reliant on luck than actual skill. To the designer's credits, though, Live Wire! allows up to four players to engage in multiplayer competitive or cooperative teamplay over LAN or the Internet.

Unlike classic action puzzlers like Wetrix, Live Wire! does not hit the right balance between frenetic action and skillful puzzle solving. Another neat concept trashed by less-than-optimal execution. Too bad.
Download full game now: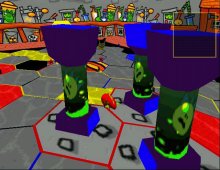 Live Wire! screenshot
People who downloaded this game have also downloaded:
3D Lemmings, Lemmings Holiday, Stroke, Incredible Machine, The, Even More Incredible Machine, The