Game Downloads
You're located in category:
Ishido
Review 1:

Almost philosophical game. Not just a simple puzzle-game. The rules itself are simple: when you place a stone it has to match the surrounding stones in either color or symbol. Relax while playing. As far as I know this game is based on a long tradition, I don't know much about it, but what I know is that this game is one of the rare classics that you play for years and don't get tired of it. I think I played this game on every computer-system I ever owned (oops - sorry, not on the C16...) and I think this is the best version. Nice graphics add the athmosphere to get into it.

Review 2:

This little known PC version of a popular Japanese board game is similar to Go in that it is easy to learn by hard to master. The object of the game is to fill up the board as much as possible with stones, each of which can be placed only adjacent to a stone that shares either its color or its name. Like all good board games, Ishido is deceptively simple. The more stones that your stone touches, the more points you earnfor that stone. Oriental music and good graphics also add to the atmosphere.
Download full game now: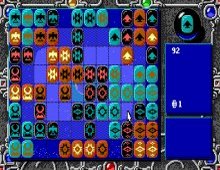 Ishido screenshot
People who downloaded this game have also downloaded:
Word Crazy, Pharaoh's Ascent, Incredible Machine, The, Xixit, Sim City 2000