Game Downloads
You're located in category:
$100,000 Pyramid, The
Review 1:

$100,000 Pyramid is a great computer version of The Pyramid game show, one of the most successful TV game shows ever made. The show was nominated 16 times for the Emmy Award, and won the Emmy nine times. This computer version is based on the latest version of the show, $100,000 Pyramid, hosted by John Davidson.

The goal of this trivia quiz variant is to guess seven words in 30 seconds or less from a category that you select off the Pyramid. Played in three rounds, the team with the highest point total wins the game and moves on to the bonus round called The Winner's Circle for a chance at the grand prize. The object here is to describe what the category is: one person gives the clues, and the category is then guessed by the contestant. If the contestant guesses all six categories in 60 seconds or less, he/she wins the grand prize.

This PC version of the show is very faithful to the original, although some of the questions are too obscure, and computer players' intelligence is quite low. Hundreds of trivia questions will likely keep fans entertained for hours, though, or at least the few minutes it'll take to reminisce about the golden days of television ;) Recommended, and be sure to use slow down programs (e.g. MoSlo or Bremze) to make the game winnable.

Review 2:

$100,000 Pyramid is a Game Show. You can have 1 to 4 player games and choose from 2 difficulty settings. "In the One Player Game the player selects one of 6 categories and then tries to guess one of the three best clues for each word given on the screen. There are 7 words in each category to guess best clues for and the player bonus round. For each correct clue entered the player must get 30 of the 42 possible clue correct or 20 in Beginner Mode" - $100,000 Pyramid Manual. This is an ok game, but it runs a bit quick on a Windows 98 computer. You could give this game a go if you want a multiplayer game with your mates.
Download full game now: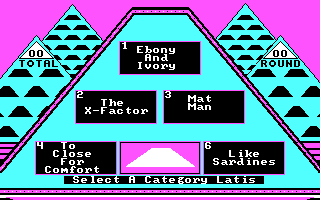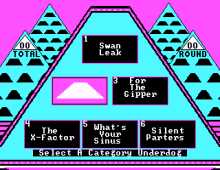 $100,000 Pyramid, The screenshots
People who downloaded this game have also downloaded:
Jeopardy! 4th Edition, Classic Concentration 2