Game Downloads
You're located in category:
Kathedrale, Die
Review 1:

German text adventures are rare, good ones even rarer. Die Kathedrale by Weltenschmiede is one of those few good ones - together with Hexuma, Soul Crystal and a couple more lesser known games. The game offers an atmospheric story, very tough puzzles and an all-around good interface that feature both good graphics and writing. It's also much longer than average, with some very tough puzzles that make the game perfect for expert fans of interactive fiction.

Review 2:

Die Kathedrale (or The Cathedral) is considered to be one of the best adventure games ever made but were never translated into English. Pity, since the game is really fun to play, especially if you like mysteries!

The game is set in a fictional cathedral somewhere in Germany where you need to find a dozen evil mechanisms which must be disarmed (what a sentence...). You have three days to solve the mystery or something real bad will happen.

During your quest, you will be offered help from various persons who are also stuck in the cathedral. You will need them badly as many parts of the game require their presence.

All the commands are issued via the text-typing console and icons located on the right side of the screen, making Die Kathedrale feel and play like the legendary C64 textual adventures. A real jewel among the many great German made games.
Download full game now: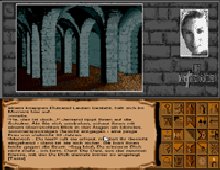 Kathedrale, Die screenshot
People who downloaded this game have also downloaded:
Hexuma, Stundenglas, Das, Hanse: Die Expedition, Mad TV 2, Aufschwung Ost