Game Downloads
You're located in category:
Dig-Dogs: Streetbusters
Review 1:

Dig-Dogs is a fun promotional game for kids that teaches basic driver's education, including safe driving, the meaning of different traffic signs, and other road rules. The gameplay is simple: just drive the car for as long as you can without violating traffic rules, avoiding other cars and roadblocks in the process. The game is in German, but it shouldn't be hard to understand -- whenever you do something wrong, a member of Dig-Dogs pops up to scold you, and make you start again right before traffic violation. Bright, cartoony graphics, intuitive driving controls, and fun gameplay make Dig-Dogs a great edutainment title for kids -- although its intended audience is too young to drive for some years yet ;) Recommended!

Review 2:

Walking the streets can be dangerous with all those crazy drivers with licenses! German Government must have been aware of this when they decided to make one such game as this. Using the comic strip characters (I guess that's who they are), BC Verlags und Medien made a game primarily meant for future drivers to learn more about traffic signs and signals before they even decide to take driving lessons.

You will have to "make" your own car from a few offered parts then take it for a drive around the city. Obey the traffic signs, but take care about batteries and gasoline as well. In case you run out of those two, you will have so solve a puzzle to get more.

Fun game; easily understandable even though it's 100% in German Language.
Download full game now: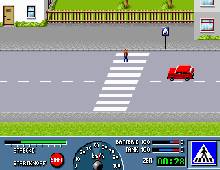 Dig-Dogs: Streetbusters screenshot
People who downloaded this game have also downloaded:
Hanse: Die Expedition, Mad TV 2, Aufschwung Ost, Dogfight, Army