Game Downloads
You're located in category:
Daffy Duck
Review 1:

One of the few education titles from Hi-Tech Expressions, and therefore one of its rarest releases, Daffy Duck is a so-so spelling game starring popular Looney Tunes characters Daffy Duck, Porky Pig, and more.

The game was designed for kids aged 5-8 to hone basic vocabulary skills, so it is easy to learn and play. The goal is simple: Daffy Duck is on a treasure hunt. On each level, you must pick up the correct alphabet (using ENTER key) that is missing from a given word, then put it down (again with ENTER key) in the correct slot. For example, if the word is SE_EN, you must pick up the V block and drop it in the blank. But you must be careful—other Looney Tunes characters such as Porky Pig and Wily E. Coyote can cause you lives. You are armed with a rifle that fires bananas (yes, bananas) to keep adversaries at bay, and completing the word correctly will yield a gold coin and grant access to the next, more difficult, level. A pretty decent game overall, but the lack of gameplay variety will probably not keep kids glued to the screen as long as, say, Super Solver games.

Review 2:

This is an educational spelling-game with popular Looney Toones characters like Daffy Duck, Porky Pig and Wily E. Coyote. In this game Daffy Duck is on a treasure hunt, and in each level you must pick up the right letter wich is missing from the given word and then you must put it in the right slot.
Download full game now: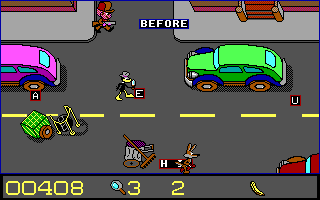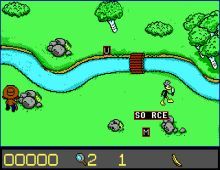 Daffy Duck screenshots
People who downloaded this game have also downloaded:
Bugs Bunny Cartoon Workshop, Advanced Thinking Skills, Mario is Missing, Barney Bear Goes to Space, A.J.'s World of Discovery