Game Downloads
You're located in category:
Bible Builder
Bible Builder is a fun trivia game about the Bible from Everbright Software, one of the first companies to have developed games exclusively for the Christian community (as an interesting side note, many such companies have since folded, including Everbright, with Wisdom Tree being one of the few companies that still exist today).

Bible Builder is essentially a straightforward multiple-choice trivia game, but what makes it stand out is the nice graphical presentation and some gameplay varieties. There are three types of questions: geography (i.e. where certain events in the Bible happen), general concepts (i.e. what God created in the sixth day), and hymns (i.e. identify the musical snippet). Questions vary in difficulty, and between the two difficulty levels, a good range of topics are covered. When you answer a question correctly, you are given a fragment of a Biblical verse. Gain enough verses, and you must piece them together like a jigsaw to form a completed verse, then identify the source. The graphics are decent, and there are many hotspots throughout the game you can click on for more information. Clicking on the angel who asks you the question will also yield a concise description of the scene. In short, a solid trivia game that is highly recommended for anyone who wants to sharpen their knowledge on Biblical events and persona.
Download full game now: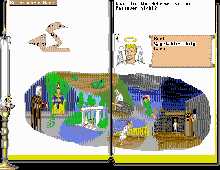 Bible Builder screenshot
People who downloaded this game have also downloaded:
Where in The World is Carmen Sandiego? Deluxe Edition, Amazon Trail, The, Learn about the Human Body, Where in America's Past is Carmen Sandiego?, Advanced Thinking Skills