Game Downloads
You're located in category:
Chessmaster 2000
Review 1:

The first in the best chess series ever introduced a fantastic game of chess. You can not only play the game versus the computer opponent, but you can also learn to be a pro chess player using some of the advanced options that this game provides.

Chessmaster 2000 is one of the best chess programs ever made. You must own a copy of it!

Review 2:

Looking for a decent chess game to spend a little time with? Then Chessmaster 2000 is a good suggestion without impressing much. The graphics are quite bad the sound is almost annoying (it can be disabled). Yet the game offers everything you need in a chess game.

The controls can't be easier as you can move all your pieces simply with the arrow keys and your return key. You can play the game on time and in many other ways and you can view the board in either 2D or 3D graphics. There is a great menu where you can select and deselect several options like sound, change graphics, game type, game level, side (black or white) and much more. And then it also has a very funny feature where you can display a screenshot from an economic program with a single key so your boss won't notice you are playing chess when he walks by.

Overall an average chess game with several unique features which in the end aren't of much use but still good enough to be mentioned. Being such an old game the game does well but doesn't reach a game like Battlechess in either Graphics or details.

Review 3:

Just a standard chess-game. They did an alright job here. The Computer plays pretty good (at least better than me, but that doesn't mean too much...) - unfortunately its strength is not adjustable. Well, still a good game, worth a try if you are looking for a chess-sim of this kind and your eyes aren't hurt so easily. Admittedly, the graphics are ugly, they would've been better off doing this game in black & white in my opinion.
Download full game now: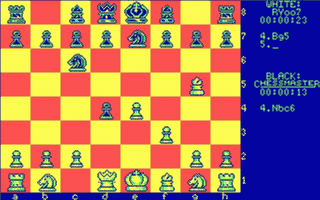 Chessmaster 2000 screenshot
People who downloaded this game have also downloaded:
Chessmaster 2100, Battle Chess for Windows, Chess (1981)