Game Downloads
You're located in category:
Tom and The Ghost
Little 7 year old Tom and his mother go on a trip to a castle in Scotland. While there, an evil magician enters the scene and casts a spell on Tom's mother, both disappear, leaving Tom alone. A ghost named Sir Arrow finds Tom and they both go off and try to save Tom's mother (and the world)-- with your help, of course.

Tom and the Ghost is a fairly unknown action adventure by Blue Byte. One of their first games and certainly not one of their classics. Still, there are some fun elements in it, such as the fact that Tom acts all on his own and does all kinds of things in the game, while you control Sir Arrow, the ghost. If you're a fan of action adventures, you might find it an entertaining game. Dull graphics and repetitive levels make it one of the least memorable of all Blue Byte games. If you're looking for a classic adventure though, you'd better look somewhere else.
Download full game now: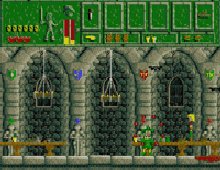 Tom and The Ghost screenshot
People who downloaded this game have also downloaded:
PacManWorlds, Tintin in Tibet, Tombstone City, Tintin: Prisoners of The Sun