Game Downloads
You're located in category:
Three Stooges, The
Review 1:

The three stooges was a comedy show in sixties in USA (at least that's what I know), and inspired the long dead company of Cinemaware to make this game. Not-so-typical arcade game that featured several different games in it. Those three funny guys need to earn at least $5000 to save the orphanage. To do this they have to work in hospitals, restaurants, fight in box matches...

Review 2:

In this funny adaptation of the TV series that isn't as well-designed as Cinemaware's classic games, you control Larry, Curly and Moe who must collect enough money through dubious means to prevent the bankers from forcing forclosure of the town's orphanage. Gameplay is reminiscent of turn-based strategy games: you have to select how you want the stooges to get money from a number of options on any given day. The actions you can do are typically based on antics from the show that are hilarious to watch but questionable in nature, such as stealing money-- no honest means here :) Overall, a fun game that doesn't live up to Cinemaware's standard, but at least it has excellent digitized voices.
Download full game now: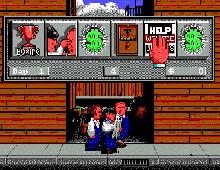 Three Stooges, The screenshots
People who downloaded this game have also downloaded:
Rampage, Frogger, Teenage Mutant Ninja Turtles 3: The Manhattan Missions