Game Downloads
You're located in category:
Theatre of Pain
Theater of Pain is a pretty bad 2D fighting game. Not as bad as Rise of the Robot, but bad enough to make you notice the obvious emphasis of form (i.e. graphics) over content (i.e. gameplay). Your task is to punch, kick, and hack your way through 7 other combatants consisting of both god and man. As in similar games, you can perform special moves, the ferocity of which depends on how well your are doing according to a meter at the bottom of the screen.

The game is similar to Savage Warriors in that it features some nice 3D effects and animations of the fighters. Beyond that, though, it doesn't have much to make it stand out from similar games. After admiring some creative fighter designs that are inspired by Greek myths (with names like Styx and Vulcan), you will be busy cursing the horrible control scheme and very easy computer-controlled opponents that you can dispose of in minutes. Fortunately the ability to play with a friend makes the game less boring. Not good enough to warrant anyone's attention at all, despite nice graphics. A pity.
Download full game now: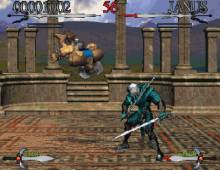 Theatre of Pain screenshot
People who downloaded this game have also downloaded:
Take No Prisoners, House of the Dead 2, The, CyberMage: Darklight Awakening, Destruction Derby, Primal Rage