Game Downloads
You're located in category:
Savage
Savage is a little-known gem from much better known software developer, Probe Entertainment (and was even programmed by Brian O'Shaughnessy, who also worked on Mortal Kombat). In Savage, you play the role of a medieval barbarian, interestingly enough named Savage, who broke free from a castle in which he was imprisoned just to find out that he was tricked into the castle just to allow the capture of his maiden girlfriend. As Savage, you must progress through three fundamentally different action subgames in order to save the maiden.

Savage is a technical wonder. Featuring tweaked PC-speaker music and sound, amazingly well-programmed EGA action sequences (including two side-scrolling levels with many sprites and even a 3D-view plane with depth-scaled sprites), Savage thrills me even today with its excellent graphics and great music. It is a classic how few people know, and I'm glad I kept the disk and can play it today as well. Get it. Now.
Download full game now: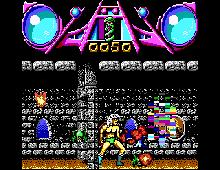 Savage screenshot
People who downloaded this game have also downloaded:
Legend Cave, Sword of Honour, Metroid Redemption, Tintin in Tibet