Game Downloads
You're located in category:
Silicon Dreams Trilogy, The (a.k.a. Snowball, Eden, Worms in
A trilogy of sci-fi games that comprises Snowball, Return to Eden, and The Worm in Paradise. All three games follow the exploits of Kim Kimberly, the legendary secret agent and space pilot. In Snowball, you must stop a colony spaceship from crashing into the destination planet Eden. After reaching Eden in Return to Eden, escape the city of Enoch from false accusers and emerge a hero. Finally in The Worm in Paradise, you are called to investigate the government's dark secrets.

The parser is a substantial improvement over the one used in Jewels of Darkness: despite the limiting verb-noun constraint, you can now type HELP to get helpful hints on various puzzles in the game and general gameplay information. Return to Eden is IMHO the best in this series, with good puzzles and well-written locations.
Download full game now: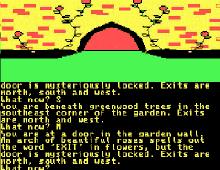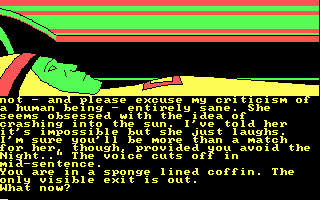 Silicon Dreams Trilogy, The (a.k.a. Snowball, Eden, Worms in screenshots
People who downloaded this game have also downloaded:
Time and Magik Trilogy, The (a.k.a. Lords of Time, Red Moon,, Red Dwarf, Planetfall [Solid Gold], Plundered Hearts, Out of This World (a.k.a. Another World)