Game Downloads
You're located in category:
Les Manley in Search for the King
Review 1:

Les Manley is a loser. He works at the small TV-Station WILL without any high responsibilities, just doing the work nobody else is willing to do. One day they decide to launch a big campaign promising a million dollar to the person who finds "The King of Entertainment". This is Les' opportunity! Not only could he use the money - he also hopes to draw the attention of the secretary Stella Hart, whose secret admirer he is for a long time, on him.

A nice adventure - made up very well, though you can't overlook some similarities to the Larry-series. While you can move your hero around with the mouse you still need to type in the actions. The parser isn't one of the best, but still ok. Overall very playable with some nice jokes.

Review 2:

A milder version of Sierra's Leisure Suit Larry, the lovable nerd Les Manley finds himself in this wacky adventure where he must literally search heaven and earth for the King himself. The text parser is very flexible (you can use pronouns, etc.). You *can* get stuck in unwinnable situations since the game happily lets you proceed without having all the necessary items. The game is disappointingly short, with the second half simply not as well scripted or funny as the first. Still, it's a funny game that deserve a second look-- just save often!
Download full game now: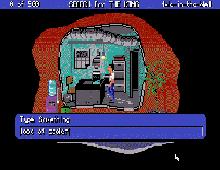 Les Manley in Search for the King screenshot
People who downloaded this game have also downloaded:
Les Manley 2: Lost in L.A.