Game Downloads
You're located in category:
Les Manley 2: Lost in L.A.
Lost in L.A. is the inferior sequel of Search for the King, a funny Leisure Suit Larry clone released 2 years earlier. In a nod to the unfortunate adventure trend, the versatile parser in Search for the King is replaced this time with a *very* dumb point-and-click interface that changes depending on where the cursor is (e.g. "Talk" to character, "Move" in default, and so on), without giving you the ability to choose among different icons. This "dumbed-down" interface severely limits gameplay, and puzzle solving becomes a tiresome click-everything-in-your-inventory-on-everything affair, with hardly any logic. To make matters worse, puzzles are few and far between, and you'll be forced to watched contrite sophomoric dialogues one after another that tries very hard to be funny. Fortunately, the game is even shorter than its predecessor, meaning you won't have to tolerate it for long.

The only saving grace of this game is perhaps the plot, which, if anything, is as wacky as its predecessor: Helmut the Human Bean, Les' best friend from the first game, has been kidnapped from his mansion in LA, and it's up to our bumbling nerd again to the rescue. If you want to play a good Larry ripoff, play Search for the Kings instead.
Download full game now: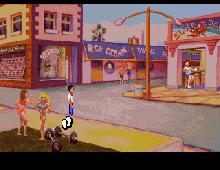 Les Manley 2: Lost in L.A. screenshot
People who downloaded this game have also downloaded:
Les Manley in Search for the King