Game Downloads
You're located in category:
Hacker 1
What should I write about this game? I guess everyone can imagine the basic idea. Yeah right - you are a hacker. This game takes place in the early days when most people didn't have the slightest idea what one of these mysterious guys might do. The game itself is based on the "romantic ideas" people had, like the developers of the game say. "Hacker" lives from the mysterious aspects of not really knowing what you are doing. To get started you should take a look into the Help-File (the thing labelled as manual above - it's from a C64 version I once had, but don't have anymore... so don't get confused when you read about controls... that's a specific thing of the emulator package I got this from), but don't expect big hints in there either. I was asking myself if I should write a little bit of what I was able to find out in the game so far (haven't solved the whole thing myself yet), but I decided against it as this one's about finding out what it's all about. That's the charme of the game and it's strong point - you're simply totally clueless about what to do. :)

A cult-classic that everyone should at least have had a look at!
Download full game now: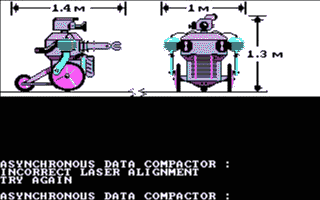 Hacker 1 screenshot
People who downloaded this game have also downloaded:
Hacker 2: The Doomsday Papers, Hitchhiker's Guide to the Galaxy, The, Leather Goddess of Phobos [Solid Gold], Hobbit, The