Game Downloads
You're located in category:
Cap'n Magneto
Definitely among the best black and white shareware game ever made for the Macintosh, Cap'n Magneto is a fun adventure/RPG hybrid by Al Evans. You play Lance Magneto, an intergalactic ranger who is tasked with investigating the disappearance of several commercial vessels that orbit Rigel IV. Despite this rather cliched premise, the wonderful sense of humor, wacky puzzles, and colorful NPCs make Cap'n Magneto a great game. You basically wander around, eat apple, influence people (by even killing them ;)), rob robots, and in general just have a heck of a time. There are dozens of objects to find and use, including weapons and armor you will need to defend yourself against hostile creatures. The mouse-based interface is easy to use - just click on the verb you want on the right menu, and then the object on screen.

In addition to being the first Macintosh game to feature scrolling 2D backgrounds, Cap'n Magneto was also one of the first Mac games to successfully combine action and RPG elements in an adventure game setting. The vast gameworld, plenty of puzzles, and a cheeky sense of humor help make it one of the best-loved shareware games among Mac connoisseurs. Appropriately, the game was named by MacUser magazine in 1990 as one of the 200 best Macintosh products. Written way back when the Mac Plus was top of the line, Cap'n Magneto remains as much fun today as it was over a decade ago. Highly recommended, especially to Infocom fans who are disappointed with their lackluster RPG/adventure hybrid called Quaterstaff.
Download full game now: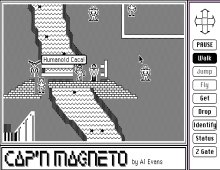 Cap'n Magneto screenshot
People who downloaded this game have also downloaded:
Chimaera, Bureaucracy, Chronomaster, Beyond Zork: The Coconut of Quendor, Border Zone