Game Downloads
You're located in category:
Beverly Hillbillies, The
Synergistic's last game before it was bought out by Sierra On-Line is a fun tongue-in-cheek adventure set in the wild west. Based on the campy TV sitcom of the same name, The Beverly Hillbillies the game's plot follows the first few episodes of the series. You play Jed Clampett, the good-natured old hillbilly who is contentedly living on his ranch, oblivious that his life was about to change forever. Soon after the game begins, we learn that two oil executives discover oil on Jed's land, making him an instant billionaire. It is then your job to help Jed, Granny, and the rest of his family move safely to Beverly Hills and start a new life.

The game interface is similar to Warriors of Legend, Synergistic's last RPG, except the "World Builder" engine was vastly simplified to handle a point-and-click style of adventure. Puzzles are logical but none too special-- most are of the typical find-item-X-for-Y type, although there is a few that will elicit chuckles now and then. The game's writing and plot are competent, although obviously the designer had much less sense of humor than Al Lowe, or any character in the TV show for that matter. Overall, The Beverly Hillbillies is a thoroughly average adventure that is good for a few laughs, but little else.
Download full game now: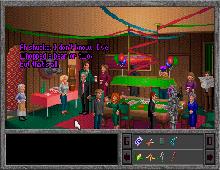 Beverly Hillbillies, The screenshot
People who downloaded this game have also downloaded:
Beavis and Butthead in Virtual Stupidity, Apprentice, Azrael's Tear, Gobliiins, Arthur: The Quest for Excalibur