Game Downloads
You're located in category:
World Darts
Review 1:

Darts... ever heard of that? Those pointy thingies you throw at that round thingy hanging on the wall? Yeah right - that's it. This is Darts... 501 to be precise. The rules of it are simple - the points you score are subtracted from 501 till you reach 0. However you got to reach this by hitting a "double" field. Bit of mathematics involved here. ;) The player first reaching 0 wins (of course). Easy concept and great to be played in a pub. Well - and also on a computer. I found the game to be best playable with a joystick - it's a lot of fun then. The graphics aren't that great - but hey, you don't need that.

The game features something like a league in which you advance by playing against the player ranking directly above you till you lose (unfortunately the game seems to stop there so you have to win against them all in a row). The computer players are playing according to their rank - the lowest ranking player is not really hard to beat, the top ranking one... is.

Overall the beauty lies in the simplicity of this game. It's nice for a round or two - and even three, four, twenty and a hundred. Considering it's age it's a really good one and I didn't notice any problems on a newer computer (although my joystick is an artifact from the early 90s as well - don't think newer ones will cause problems though).

Review 2:

An old, thoroughly average darts game from Melbourne House, originally released for the Amstrad computers. World Darts lets you play -- surprise!-- darts in a solo mode. In contrast to the usual power-meter interface, this game uses a strange and annoying moving-hand interface in which you must move the (very ugly) hand around the screen to throw darts. The trajectory is hard to predict, since there is no way to alter the power of your throw. Fans of the sport should play Bully's Sporting Darts instead and leave this mouldie oldie alone.

Review 3:

Very addictive game. You just want to win. We are talking of course about darts. The game is quite easy: You have to move your 'shaking' hand across the board. You can control the hand using your cursor keys. To throw your darts press the space bar. You have to press fire within 20 seconds, otherwise you automatically throw the darts at the position your hand is. Just play 501 against a computer or against a friend. When you play the computer you just have to win one leg in order to go to the next character to play against. Of course they will get better a long the way.
Download full game now: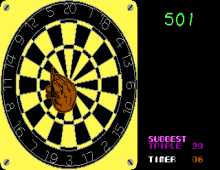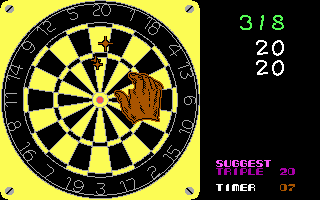 World Darts screenshots
People who downloaded this game have also downloaded:
18 Hole Miniature Golf, Crime and Punishment, 3D Pool, Jimmy White's Whirlwind Snooker