Game Downloads
You're located in category:
Magnaflux Runner
Magnaflux Runner is a fun top-down miniature racing game for Windows 3.1 that is similar to better-known Micro Machines series. Instead of racing around everyday objects, Magnaflux Runner pits your skills against computer-controlled cyborg opponents on 5 unique alien speedways.

The "Magnaflux Runner" in the game's title is a futuristic armored vehicle that glides inches above a magnetic track. Use your weapons and thrusters to deal with opponents and avoid the myriad of traps and hazards on the tracks. You can compete against a friend in hot-seat mode, although unfortunately no TCP/IP is available. The interface and controls are both easy to use, and the cars are smoothly animated. The cars are a bit too tiny, however, so you likely won't feel the adrenaline rush of GTA or Micro Machines.

Overall, Magnaflux Runner is a competent racer that is enjoyable for a few hours. The 5-track limit and inferior gameplay compared to Micro Machines hamper the fun, though, making the game neither memorable nor as replayable as Codemasters' classics.
Download full game now: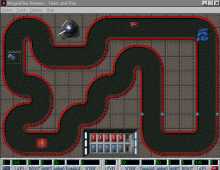 Magnaflux Runner screenshot
People who downloaded this game have also downloaded:
Micro Machines V3, Mind Games Entertainment Pack for Windows, Unlimited Adventures, Hua Rong Dao, Dopewars