Game Downloads
You're located in category:
Gazza 2
Review 1:

OK, there always has to be a worst - and THIS is the worst soccer-game I ever encountered. The graphics are somewhat okay, but the gameplay is a bad joke and the matches - well... unplayable. The field is too small - one goalkeeper can shoot the ball right to the other (and does that quite often). Usually the computer will just catch the ball somehow - not very hard due to the confusing game-controls, oh btw.: they SAY you can use the num-pad-keys, ha ha, good one, unfortunately they don't work! - so where did I stop? Ah right - a computer-player catches the ball and runs mindlessly towards your goal - if he is about 10 meters away he stops and starts spinning around himself - not always, sometimes he even shoots, usually he doesn't score. Well, sometimes he does, but who cares? This game is just one thing: bad - you should download it just to see HOW many things can go wrong. I remember the magazines laughing when this game came out. Believe me, it's not the arrogance of a gamer of the 3D-age, they just produced crap here.

One has to be fair though - all elements of a good soccer-game are here... management features, different players etc. - basically everything you would also find in Sensible Soccer for example. They just managed it to care that nothing really works. It starts to get funny again... the bad thing is that they actually wanted to make money off this and I feel sorry for every gamer who bought this and felt betrayed afterwards.

Review 2:

Poor soccer/manager mix endorsed by Britain's "bad boy" Paul Gascoigne. You have the option to play either a standard soccer game or the management option only. Nice idea, but both are executed too poorly to attract attention of either arcade or soccer management fans. Only recommended to soccer game collectors. Note: The colours look very odd on some modern graphic cards.
Download full game now: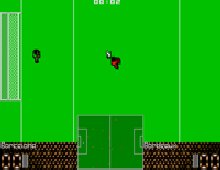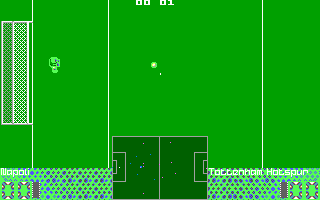 Gazza 2 screenshots