Game Downloads
You're located in category:
Arcade Pool
This game lets you play nine different types of pool, ranging from "US 9 ball" to survivor and speed pool. Also there are options to play using US or UK rules, or to set up a custom game.

The graphics are OK; you can't really work wonders with a 2D pool game... It's easy to see which ball is which, and that's as good as it gets. Soundwise, the effects are again not plentiful in a game of this kind, but there is a piano-tune playing during setup, which gets quite annoying if you hang around without starting a new game. Then again, maybe that's the idea.

The table is seen from a 2D bird's eye perspective which gives a nice overview. When you want to shoot the ball, you have a handy tracking line to aid you. It shows how the cueball will roll before and after hitting its target. That's very useful for rookies but should be turned off once you get more skilled.

All in all a fun game if you're into the genre, but perhaps not something you'd spend a whole night on. Still, as nice abandoned pool games are tricky to find, this is a good solid choice.
Download full game now: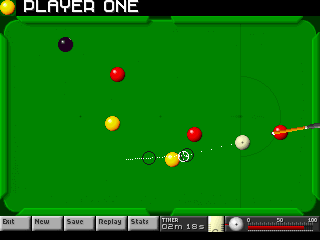 Arcade Pool screenshot