Game Downloads
You're located in category:
Stocks & Shares
Stocks & Shares is a fun and free bite-sized stock market simulation - meaning that a complete game won't take you more than a few minutes to complete. The realism can't be compared with true simulations like Wall $treet Raider, but as a "light" simulation, Stocks & Shares is more than adequate.

The game is easy to learn, but is no cakewalk. Although there are less than 20 stocks you can buy per game, making the right buy/sell decisions is far from easy. Success hinges on careful reading of the daily news and correct prediction of their impact on stock prices. The interface is very well designed: all the salient information is displayed all in one screen, so you won't have to wade through different menus as you would in most other stock sims. You can play solo against computer-controlled opponents, or against other people in hot-seat mode. You can set the length of the game, making it an ideal diversion during coffee breaks at the office. The companies and information are created randomly each game, so the replay value much higher than similar games. All in all, if you are interested in the mechanics of the stock market but find most stock market simulations too dry or too complex, give Stocks & Shares a try. It won't turn you into Warren Buffett overnight, but you will at least gain some insights into the relationship between financial markets and world/industry/company events - while having fun besides. Highly recommended!
Download full game now: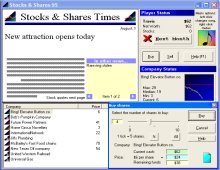 Stocks & Shares screenshot
People who downloaded this game have also downloaded:
Stock Market: The Game, Stocks & Bonds, Business Simulator, SimHealth, SimFarm for Windows