Game Downloads
You're located in category:
High Rollers
A good PC version of an oldie TV game show of the same name. In this novel combination of gambling and trivia, 2 contestants compete to remove numbers off a 3x3 grid by rolling a pair of dice. To begin each turn, a multiple choice or true/false question is read. The first contestant that buzzes in chooses the correct answer. If correct, that person can opt to roll the dice or pass the dice to his/her opponent. If incorrect, control goes to the opponent and has the option of rolling or passing. The dice are rolled down a craps-like table. The roller must remove a single number or several numbers whose sum adds up to the total on the dice. The numbers 1 through 9 are arranged in the 3x3 grid. At least one column, occasionally 2 columns, are "hot" columns, which means a single column of numbers can be removed with the proper roll. If doubles are rolled, the roller earns an insurance marker that can be used whenever that person rolls a number that cannot be made with the numbers on the board. A game ends when a roller has rolled a number that is no longer on the board or a number whose sum cannot be made with any combination of numbers on the board or when the board is cleared. If a bad number is rolled, the opponent wins the game. If a person clears the board, that person wins the game.

Despite four-color CGA graphics, High Rollers is surprisingly playable and stands up well with time. The true/false questions are interesting, and the element of luck keeps the game afresh and reduces the game's dependence on strong AI (although there's a definite difference between "Expert" and "Novice" levels). Perfect for fans of gambling games who want a touch of trivia in their games, and trivia fans who want an element of randomness to spice up the challenge. Definitely one of Box Office's better releases.
Download full game now: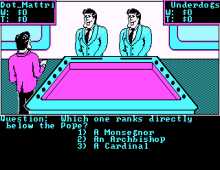 High Rollers screenshot
People who downloaded this game have also downloaded:
Card Sharks, Hollywood Squares, Super Password