Game Downloads
You're located in category:
Beast
Ahh, well this is a long time ago... I was five. I remember I'd never seen a PC before and I went to the attic. My mother was sitting behind a TV and controlling a small blue thing with which she crashed the little "H" creatures using green bricks. You can imagine I thought "WHAT THE @#&$???", but yeah, I was five, so I didn't think like that back then ;)

That was my very first experience with computers. She showed me how to play this game and so I did and I couldn't stop. Since then I was a PC addictive...

Well, as I said, the idea is really simple, you control a little blue "thing" and you crush small "H" creatures by using bricks. For the very first game you play, this game is awesome. For me, it's an experience I will never forget. For others, it won't be a real great game. The graphics aren't really special. When playing this game, you should really slow down your PC, cuz it will be unplayable on a pentium 75+!

For people who like these kind of games, try the game Caves, that looks like it, but has more variation, better graphics and the game is more fun to play!
Download full game now: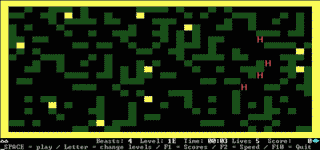 Beast screenshot
People who downloaded this game have also downloaded:
Bird Cage Puzzle, The, Classic Puzzles, Dr Ruth's Computer Game of Good Sex, 3-K Trivia, Ball Game, The