Game Downloads
You're located in category:
Moptown Parade
One of the oldest releases by The Learning Company, Moptown Parade is a fun little edutainment game aimed at teaching basic pattern recognition and logic skills to kids aged 4-7. The goal is simple: choose the traits of Moppet creatures to line up in a queue, obeying the given number of rules. For instance, if the rule says "2," you must choose the traits of the next Moppet so that it differs from the previous Moppet by 2 traits, e.g. a fat, blue Moppet can stand next to a thin, red Moppet. The number of rules, i.e. traits, can be changed from 1 to 4, thus either making the game more or less challenging (although changing the traits to 4, the maximum, will just result in your Moppets being an alternate sequence of two types of Moppets).

Overall, this is a fun little game, all coded in BASICA, that will teach kids a thing or two about logic. This is a cut-down version of the original Apple II release, which contains 6 more games-- let me know if anyone can confirm whether Learning Company ever released the full game for PC.
Download full game now: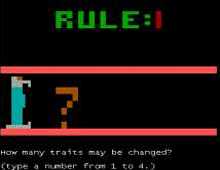 Moptown Parade screenshot
People who downloaded this game have also downloaded:
Reader Rabbit's Ready for Letters, Monster Math, Reader Rabbit, Super Solvers: Operation Neptune