Game Downloads
You're located in category:
Discover Space
Discover Space is an excellent desktop planetary program from Broderbund, makers of numerous prize-winning edutainment titles including the world-famous Where in [X] is Carmen Sandiego? series. Contrary to Broderbund's most other programs, Discover in Space is more of an application than an edutainment title or a game. It basically lets you view the night sky from any vantage point and just about any year. What sets it apart from programs like Dance of the Planets or, more recently, Red Shift is the accessibility to kids. The interface is very easy to learn, and the included databaes of constellations is a nice bonus. The constellations section not only shows a diagram of all the named constellations, but also readable background the myths and facts behind their names. With crisp graphics, intuitive interface, and the right balance between accessibility and depth of information, Discover Space will appeal to kids of all ages who find 'professional' astronomy software a bit too intimidating.
Download full game now: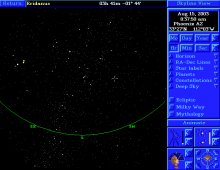 Discover Space screenshot
People who downloaded this game have also downloaded:
Dance of the Planet 2.0, Discovering America, Where in The World is Carmen Sandiego? Deluxe Edition, C.Y.P.H.E.R. Operation Wildlife, Where in Space is Carmen Sandiego?