Game Downloads
You're located in category:
CHAMP Galagon
Review 1:

CHAMP Galagon is a good clone of ATARI's classic Galaga, similar in style and gameplay to CHAMProgramming's earlier CHAMP Galaxia which was based on Galaxian. The gameplay is simple as ever: destroy the waves of Galagon ships that are invading the Earth. As with other CHAMP games, you can play the game in two modes: the Classic mode, which faithfully recreates the fun of Galaga, or the CHAMP mode, which offers new challenges, new enemies, and a more difficult gameplay.

CHAMP games are notable for excellent graphics, faithful recreation of arcade originals, and a smooth, addictive gameplay that brings the much-loved classic to a new generation of gamers, as well as old-timers who will enjoy the CHAMP levels. If you love the arcade original, you will doubtless enjoy this wonderful remake from one of the best shareware companies in the business.

Review 2:

Get ready to stop the Galagon Empire from taking over Earth with Galagon, release from CHAMP Games. The Galagons attack in waves, firing missiles down on your ship. You must avoid colliding into the missiles and enemy ships while at the same time destroying them as fast as possible.

This game offers two modes of play: Classic, which is like an arcade version, and CHAMP, which has enhanced graphics, weapons, attack patterns, and power-ups. Whether you choose the first or second option you will see that the gameplay is in focus and you will get a lot of entertainment from both as well. If you are a bit tired of the regular arcade shooters the CHAMP version offers additional gameplay in a game genre that is a bit overcrowded with very similar versions.

Galagon is overall a decent game and is of the same good standard as any other game from CHAMP Games. Of course there is a few things that could be better in the game and the gameplay is pretty much the same on each level but you can't expect much more from a game like this either.
Download full game now: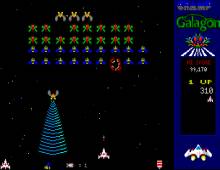 CHAMP Galagon screenshot
People who downloaded this game have also downloaded:
CHAMP Galaxia, CHAMP Invaders, Champ Kong, CHAMP Pac-em, CHAMP Ms. Pac-em