Game Downloads
You're located in category:
Hudson City Sector One
Hudson City Sector One is a little-known utility program - more appropriately "gamemaster's aid" - for use in managing ongoing games of pen & paper RPGs set in Hudson City, part of HERO Games's award-winning "Dark Champions" RPG system. Based on the "Goldtree Engine," a short-lived utility engine by Goldtree Enterprises, Hudson City One features a wealth of information on the core of Hudson City, including maps and NPCs. The program can generate random encounters and weather patterns, and can be used to store notes about various player characters and their adventures. The program has all of the information included in the Hudson City sourcebook Justice, Not Law, and a few others. It can also be customized to suit your GM style and preferences.

Unfortunately for all the promising features, the program was not executed very well. The documentation is poor to say the least, and the user interface is extremely user unfriendly. I tried creating some random encounters, but I never succeeded in getting them to work. Perhaps Goldtree expected that the only users of this program would be regular HERO games players, but I daresay even HERO veterans would have a hard time using this program. Goldtree also made numerous sloppy mistakes in trying to convert their generic Goldtree Engine to Hudson City. For example, character templates look like they come out of some generic D&D style fantasy settings, not something like HERO. And there are some outright irrelevant references - a 'temple' in the midst of futuristic Hudson City, for example. Perhaps it was due to poor sales that prompted Goldtree to release the program as freeware on their website (which is currently being revamped) sometime in 2001. If they released the program as freeware as an incentive to buy the Goldtree Engine, no doubt they failed miserably. Even at no cost, few RPG GMs would be tempted to try this confusing package. Worth a look only for the most patient and dedicated of HERO pen & paper players.
Download full game now: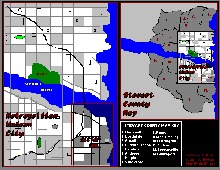 Hudson City Sector One screenshot
People who downloaded this game have also downloaded:
Adventure Construction Set, VDM Sound, BBC Gardeners' World: 3D Designer, Virtual Sound Blaster, Moslo 1.32