Game Downloads
You're located in category:
Broken Sword: The Shadow of the Templars
Review 1:

A mysterious world of newage Templars is opening in front of us and the Broken Sword game. For this game you rather preserve plenty of free time, not because of the game would be so difficult or hard, but that's why you will certainly return to it manytimes, so as I do. If we had compared games of another companies that time (1996), Broken Sword would turn up as a absolute winner. And that is worthy thing because for example games such as Three Skulls of the Toltecs or Bud Tucker in double trouble were also very good. BS came out on two CDs with original dub which is quite the same till the third episode.

Our distressful story, which has till today 3 original and 2 fan sequels, begins on holidays in Paris. It's sunny afternoon and our main character, George Stobart, is just having a good time on his deserved vacation at one caffé on the main street. Everything is quiet and peaceful until a skittish run of a clown, who left his accordion in the caffé. After a while just BOOM and you are covered under a curtain of a sunshade. Fortunatelly not injured and ready for an adventure. To be honest I even don't know where does it took in that "Yankee" but the truth is he will travel almost all around the world - Scotland, Spain, Syria etc. In every single state, in every single city you are step by step putting together tiny clues about why it all started and who is behind it. In effort of searching for the truth will be handy to you young french newspaperwoman Nicol, who is by the way obviously interested in getting you to the bed (so just because of that I would play it till the end).

By playing the game I was fine relaxed and I can recommend it to all of you who prefer point and click and by hand animated scenes. It's just tainted by leftover from the past times like - possibility of death of the character or sometimes tough quests such as goat in Scotland or two maffiosos in front of hotel Ubu - elder and more experienced gamers surely know what's going on.

Review 2:

Broken Sword: The Shadow of the Templars is a cartoon style adventure game. At the very opening of the game you will be sitting down for a cup of coffee at a French café when it is all of a sudden blown up. This explosion ends up killing the overly mysterious Monsieur Plantard. Then your character George is attempting to track down whom ever had done this which takes you from the sewers of Paris all the way too Scotland. Throughout your travels you will begin to learn about the Knights Templar and their treasure. During your travels you will have encounters with many people who will help or attempt to stop your adventure, even attempting to kill you.

When it comes to game play the game is very simple interactively. You will use your cursor that will change its shape to represent the action that you want to do. The action will display when your cursor goes over a spot that will allow an action. A mouth will appear when you are able to talk with someone, a hand will appear when you have the ability to pick the item up, and a gear will appear when you are able to use an item. Even if an item doesn't appear you will be able to right click your mouse, which will then allow you to look before you decide if you want to take the intended action.

The conversations that you will participate in throughout the entire game can be very interesting and actually get to the point of information. The conversation aspect allows you to get an extra personal feel of your character. The game has been very well scripted allowing the game to become very put together. In some instances you won't have much control of how the conversation goes, but this is normally when the plot takes you to another step in the story. When these conversations begin the mode will change and then your inventory will show at the top part of the screen. There will then be a display of the people and items that you have learnt about appearing on the bottom of your screen. This will allow you to pick one of the items to select it for the topic in the conversation. Your character will ask questions by myself that are related to your topic of selection and once everything has been asked you'll be required to exit the conversation mode.

There are many areas throughout the game that you will travel through which can be very interesting and some quite smelly. The game has a wide range of locations and every single one is more unique then the next. Some of these places you will get to go through and experience are sewers, costume shops, the police station, Hotel Ubu, and many more. Each of these places is just as interesting as the previous. There is so much going on throughout each of the locations you travel through that the game can get overwhelming with information. If it weren't for the inventory there would be no possible way to keep track.

The visual appeal of the game does have a lot of animation done to every aspect of the graphical design. The game has been done very similar to how a cartoon would be designed but you have more control over. Everything about the game has amazing detail and is definitely colorful. The characters look like cartoon characters you'd watch on television. The entire game has been animated and been taken to the next step in the gaming world. With everything being so well done graphically the music would have had to be done just as well. There is music throughout the game, but with the amount of conversation that takes place it isn't too noticeable. Of course everything about the design of this game fits nicely together. There has been lots of thought put to the overall completion of Broken Sword: The Shadow of the Templars.

Throughout the entire game you will be solving many puzzles while you are traveling around. You wouldn't expect a puzzle solving adventure game to be as well done as this one. The game hasn't been designed to be too difficult, but just hard enough to make it a little challenging. The entire game has over sixty different people that you will be speaking to, each having just as unique of a story as the previous one. With the vast locations to be traveling through, ranging over seventy places, the game is endless with possibilities. Broken Sword: The Shadow of the Templars is definitely a game designed for the gamers who love adventure games that have been taken to the next level. This game is by far the most fascinating adventure game you will ever experience.
Download full game now: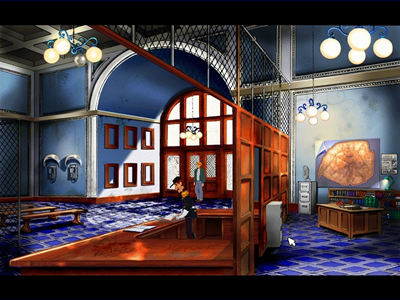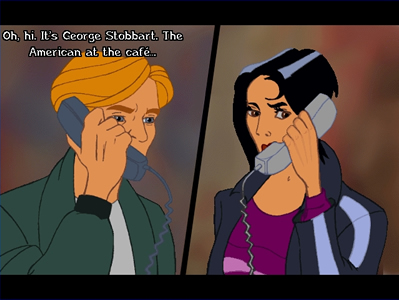 Broken Sword: The Shadow of the Templars screenshots