Game Downloads
You're located in category:
Lone Wolf - The Mirror of Death (a.k.a. Tower of Fear)
Based on the hit series of roleplaying gamebooks, Lone Wolf is an excellent side-scrolling beat 'em up rom Audiogenic that puts you in the shoes of Lone Wolf - last of the Kai Masters, a fantasy hero who looks like a cousin of either Conan the Cimmerian or Hercules. Your job: exorcise the evil spirit of a nasty old sorceror by defeating 7 shadowy demons who inhabit the shards of the Mirror Of Death.

In traditional beat 'em up style, you parade inside the sorcerer's fortress, fighting his guardians and confronting the "boss" demon on each level. In a nice twist from typical platformers, apart from your trusty sword you possess 4 Kai (i.e. magic) skills chosen from a selection of 8. These are quite creative, including Mindshield, Animal Kinship (terrify your enemies with an image of a wolf), Invisibility, Sixth Sense (avoid getting lost), Divinity (detect evil), Weapon Skills, and Healing. Using the right skill at the right time is key to finishing the game, and this adds an interesting element of adventure gaming to the mix.

The game is very nice to look at, with detailed background graphics and excellent character animations. The backgrounds are also not just static backdrops, but full of little animations that enliven the atmosphere, such as the flickering torches, turning gears that power sinister traps, and much more. The adventure element is a little unforgiving, because most of the time you will find out which Kai skills you really need to pass the level only after you die. Regardless, it usually doesn't take more than a couple of retries to find out, and the levels are not so long that you will get bored getting to the same spot again. The game's designers also deserve kudos for coding monsters with some semblance of intelligence, especially the end-level demons. Keep doing the same moves, for example, and the demon will learn to block you. He will even backstab you or turn invisible if you are getting the upper hand. Overall, if you enjoy fantasy action games, Lone Wolf is a great, highly underrated game that is well worth your time.
Download full game now: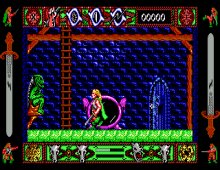 Lone Wolf - The Mirror of Death (a.k.a. Tower of Fear) screenshot
People who downloaded this game have also downloaded:
Gunstar Heroes, First Samurai, Duke Nukem: Waiting For Forever, Castlevania Haunted Castle 3, Lost Files of Sherlock Holmes 2 (a.k.a. Case of Rose Tattoo)