Game Downloads
You're located in category:
Bier Revier (a.k.a. Beer Beat)
"Discover a fascinating land in search of the treasures of nature. At six different hunting grounds, your swiftness as a hunter of fresh Licher beer will be challenged. The mouse button is your hunting tool, in the 360-degree panorama or while searching for that Licher beer."

This is my translation of the original description of this marketing tactic game, as I call it. Pretty lame, huh? The entire object of this game is to snatch as much beer as you can, which I can do even when I'm drunk :-)))

OK, seriously, this is a game produced by a German brewery for the thirsty German public, so you'd think it would have some type of mature theme or something. Nope. The game is simple -- you move your mouse around a "360-degree panorama," visit six different places like a brook, a castle, or a forest, and try to catch as much beer as you can in 30 seconds. Things like bonuses and negative points are there, too.

You're scored in liters instead of points, which makes sense here. After finishing the sixth round, your score is totaled up and you might make the high score list, which can also be bad, I guess, since 150 liters (over 39 gallons!) in three minutes is a lot of beer!

Three minutes is also about the length of time you will want to continue playing this game, since its replay value is zero. The fabled panorama is only at the start menu -- the areas themselves remain static. A kind of "variety" in the game is the fact that the beer moves in various directions. More exact: All the beer in one stage moves in the same direction. Boring!

If you want to show your friends how crazy Germans can be :-) then download this game. It does have a sort of novelty value, in a way.Maybe you'll get thirsty or something. Overall, though, I'd give it maybe a 6 out of 10...
Download full game now: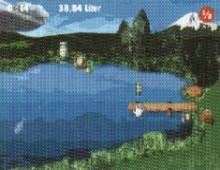 Bier Revier (a.k.a. Beer Beat) screenshot
People who downloaded this game have also downloaded:
Bio F.R.E.A.K.S., Battle Arena Toshinden, Battle Arena Toshinden 2, B-Hunter, Barbarians